On 17th August 2022 Aero Adapt received the first inquiry from Nauru Airlines (RON) requesting support for an into-Maintenance ferry flight to EGSH (Norwich UK) which departed Brisbane on the 28th of August 2022. It involved lots of high-level collaboration and logistics. Read our blog to learn more.
Aero Adapt Making Flights Happen
Not having the experience to ferry aircraft to Europe, and without the mandated avionics the operator Nauru Airlines engaged Aero Adapt to leverage our experience in this and our network of suppliers and contacts. Aero Adapt was there every step of the way from the initial kick-off meeting with all Nauru Airline departments. It was a big project that involved high levels of collaboration (connecting with government agencies), logistics, and overall attention to detail. 
It was a great team effort, and we look forward to many more such projects. In fact, Aero Adapt will be working with them on getting this aircraft home in a few weeks. The remainder of the fleet will be undertaking the same maintenance at the same MRO (maintenance release organisation) in Norwich, UK.
The Nauru Airlines aircraft used in this ferry flight was a B737-300 aircraft which has been in operation for many years.
---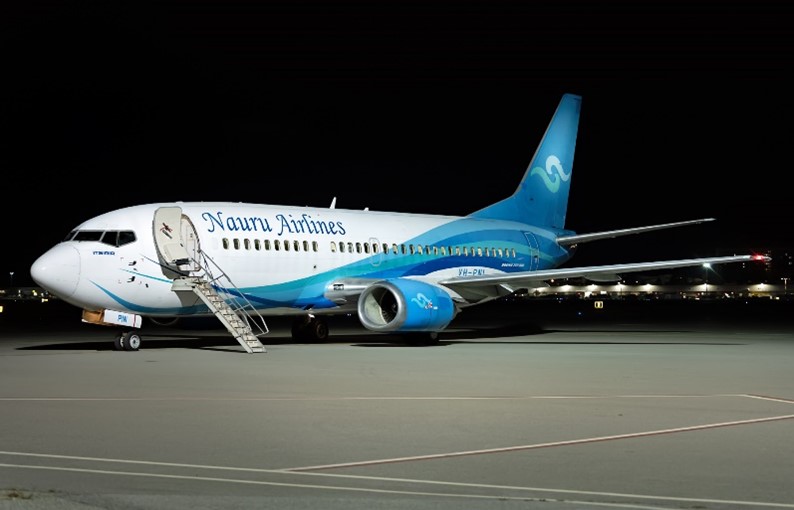 Team Effort in Making Ferry Flight Possible
When it comes to making such flights possible working together as a team is essential or else many mistakes and setbacks occur. To be fair and accurate such mistakes and setbacks can occur even when working as a team, but we have found time and time again in our experience that these are better mitigated working as a team. Aero Adapt worked closely with a lot of the team from Nauru Airlines like Anthony Neideck – Head of Flying and Ground Operations and Peter Holmes – Operations Centre Manager. This ensured a smooth process despite some delays and as a result, the flight was able to proceed.
Testimony from Peter Holmes
"As an airline which calls the Central and South Pacific our home, to find ourselves having to operate on the other side of the world with just a few weeks' notice was a daunting task. The Aero Adapt team handled the complexities of sending an aircraft to the UK, across the North Atlantic, and into Europe. Their research and tenacity of such an operation were invaluable. The Aero Adapt team was a very knowledgeable team, down to earth and easy-going team to work alongside. We look forward to working with the team again in the future."
Logistics Involved in the Flight
As you can imagine such a flight involves a lot of logistics which Aero Adapt was thankfully able to handle. Some of these included:
Due to TCAS non-compliance and aircraft overflying the North Atlantic Tracks (NAT), exemptions were needed from enroute CAAs and Flight Information Regions (FIRs)
Lots of research required on our end to ensure TCAS 7.1 and VHF 8.33 Exemptions were in place from enroute CAAs and FIRs (Flight Information Regions.
'Trip Support Summaries' were published so that crew could refer to their next station and what services had been put in place. The TSS is a useful tool that we produce for clients.
Due to schedule delays (seven in total!), we constantly had to re-engage with the authorities to amend submissions and revise handling services.
Liaising with various government bodies like FAA, Transport Canada, Nav Canada, Irish CAA. To ensure exemptions and other protocols were in place.
and much more
Got a big flight project? Well, we have the team and capability to carry it for you so get in touch with Danny and the team today and we will make it happen for you. We will walk you through each step. Contact us today.
Call: +61 29669 6779
Email: operations@aeroadapt.com