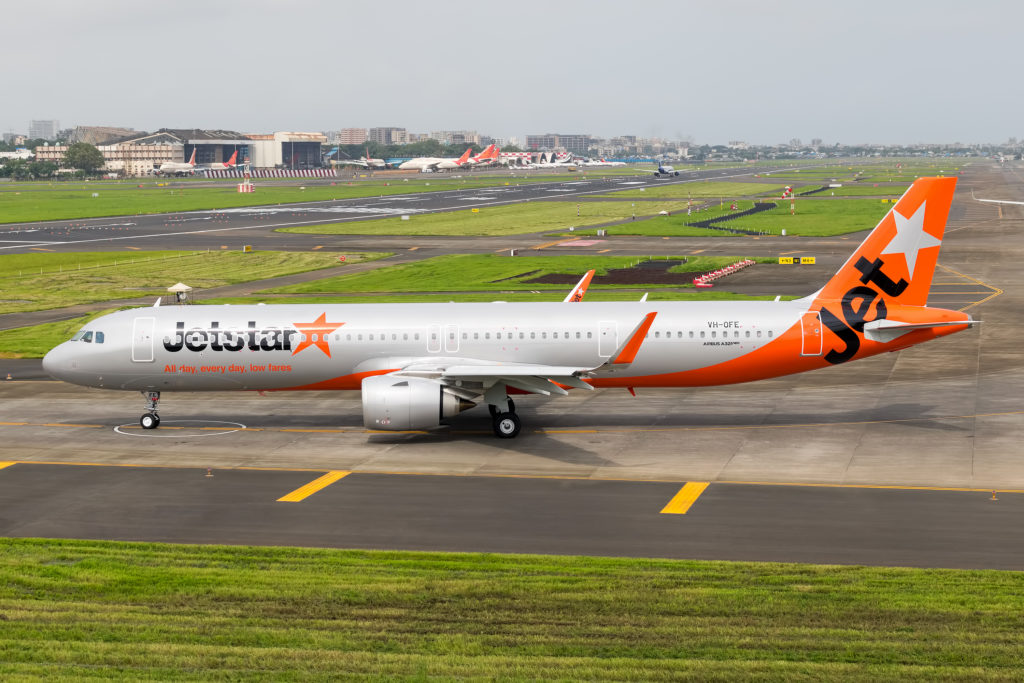 Aviation history was recently made when Jetstar delivered the new Airbus A321LR NEO aircraft into Australia. The Airbus was the first of 38 Neo (A321LR & A321XLR) deliveries to be made. Aero Adapt worked in close partnership with Jetstar for this historic event. Read our blog to learn more.
New Airbus A321LR- NEO Aircraft and What it Means For Australia
The first of the aircraft left the Airbus factory in Germany in mid-July 2022 and arrived in Melbourne on 31st July 2022. This leaves 37 aircraft to go! The new Airbus is cutting edge for the Australian aviation industry and is a 'game changer aircraft' for Australia. In a post-COVID era, it represents the perfect aircraft with features like:
Additional fuel tank, enabling the aircraft to fly between all destinations on its domestic network, as well as to Southeast Asia, including Bali.
Increased passenger comfort with award-winning ergonomic Recaro seats with tapered armrests for greater living space. Extra-large overhead bins with 40% more space, providing passengers with more room to stow bags overhead.
USB ports and tablet holders at every seat.
Latest lighting system for enhanced passenger experience.
Aero Adapt and Jetstar Partnership / Aero Adapt Partners with Jetstar
Aero Adapt is proud to partner with Jetstar for the delivery of these new Airbus, including the first delivery on the 31st of July 2022. We are contracted (long term) by Jetstar Airways to provide trip support for their ad-hoc flights like delivery flights. In addition, we work directly with the Jetstar operations control centre management and support the technical pilots who operate these flights. Jetstar trust us to be the outsourced operations centre for them and seamlessly support them (fit in between their operations department and the tech pilots) with the delivery of these new Airbus. True to our name, we adapt to what is required at each crucial stage.
Reliable Aviation Trip Support in Asia Pacific
Aviation trip support requires extremely high levels of attention to detail, analysis, and planning. When outsourcing your aviation trip support, you want to ensure you are going with the very best. When it comes to trip support and delivery of the new Airbus A321LR- NEO Aircraft Aero Adapt provides:
•Enroute support such as over-flight permits
•Ground handling at an airport outside Jetstar's network
•Crew support such as hotels, catering, transport, visas outside Jetstar's network
•Government and airport authority liaison via CAA's, Customs, Immigration, and Quarantine)
•Keeping Jetstar and tech pilots informed of progress via trip support summary & online portal. This keeps clients updated on our progress with live push notifications if changes made on our end.
· And much more
David McCutcheon, Senior Manager Flying Operations (Fleet Operations & Regulatory Affairs) Flying Operations, Jetstar Airways
"It's great having the full support and commitment from Aero Adapt for such an important and one-of-a-kind or historic flight for JQ. It's made the whole process of delivery so much more efficient. Throughout the trip, Aero Adapt ensures that are requirements we specify are met and throughout each trip, we can talk to them directly too. There's total transparency. This makes my job easier as I just get on with the flying and delivery of the aircraft. We are looking forward to future flights with support from the team at Aero Adapt."
For reliable and trusted aviation trip support in Australia and the Asia Pacific region please contact Aero Adapt who will make this happen seamlessly for you and your team. We'd love to speak to you and see how we can help.
Call: +61 29669 6779
Email: operations@aeroadapt.com